Career Panel
Date: Wednesday 19 July, 14:15 - 15:30
Location: Gold Room (Above Civic Auditorium)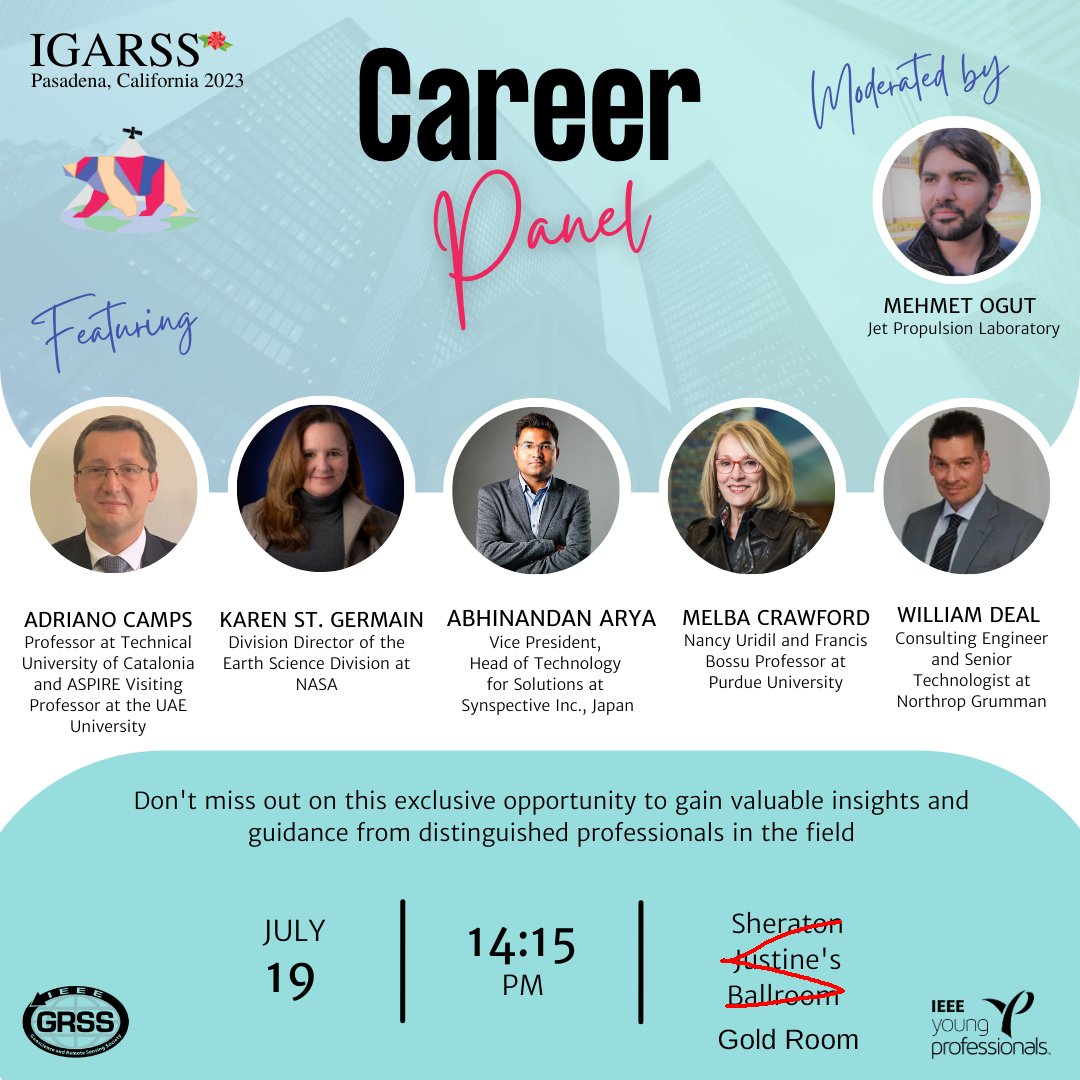 The Career Panel brings together accomplished leading experts from various backgrounds, including industry, academia, and research laboratories, who will share their valuable experiences, best practices, how to make career choices, and the mindset required to thrive in a successful career.
This career panel presents an exceptional opportunity for students exploring career possibilities, young professionals seeking to enhance their expertise, or professionals looking forward to further advancing their career to gain insights from a distinguished group of professionals.
The panel will feature an interactive discussion, driven by audience questions.
Panelists
Adriano Camps is an IEEE Fellow and IEEE GRSS past president. He is a professor at the Department of Signal Theory and Communications at the Technical University of Catalonia (Barcelona, Spain), member of the Institute of Space Studies of Catalonia, and ASPIRE Visiting International Professor at the UAE University in Abu Dhabi. Camps has 30 years of experience in the field of passive microwave remote sensing, including radiometry and GNSS reflectometry for Earth Science applications. His research lines focus on: 1) microwave remote sensing, with special emphasis on microwave radiometry by aperture synthesis (i.e., MIRAS instrument, single payload of ESA SMOS mission), 2) GNSS-Reflectometry, 3) radio-frequency interference detection and mitigation, 4) ionospheric radio-wave propagation, and 5) nanosatellites as a tool to test new remote sensing. He has published over 250 journal articles, authored 9 book chapters, co-authored, "Introduction to Satellite Remote Sensing," and has made more than 515 conference presentations. He has advised 29 Ph.D. students, holds 12 patents, and is co-founder of two startups. He directs the UPC NanoSat-Lab, he has been responsible of the development of the UPC 3Cat program, including the launch of the first Catalan CubeSats, and he and his team were the lead authors of the Catalan New Space Strategy.
Dr. St. Germain is the Division Director of the Earth Science Division, in the Science Mission Directorate at the National Aeronautics and Space Administration (NASA). She provides executive leadership, strategic direction, and overall management for the agency's Earth Science portfolio, including a fleet of 25 satellites that are currently viewing our home planet from space. Her program also includes technology development, development of the next generation of Earth-observing satellites, and a robust research and applications program to understand how land, ocean, atmosphere, and cryosphere systems work and interact.
Dr. St. Germain came to NASA from the NOAA Satellite and Information Service, where she served as the Deputy Assistant Administrator, Systems (DAAS), with responsibility for leading the development of the nation's operational weather satellite systems. From 2011 to 2016, Dr. St. Germain served in the Space, Strategic and Intelligence Systems (SSI) Office, Office of the Under Secretary of Defense for Acquisition, Technology and Logistics (OUSD AT&L), where she managed a broad portfolio of defense and intelligence satellite programs.
Dr. St. Germain is a leader in enterprise-level planning and multi-organizational space programs of national significance. She is also an expert in major satellite systems development, with particular proficiency in transitioning new technology into operational systems.
Dr. St. Germain had a successful research career at the University of Massachusetts, the University of Nebraska, and the Naval Research Laboratory. She has performed research aboard ice-breakers in the Arctic and Antarctic, flown through hurricanes and tropical storms on NOAA's P-3 airplanes and measured glacial ice on a snowmobile traverse of the Greenland ice sheet.
Dr. St. Germain holds a Bachelor of Science degree in electrical engineering from Union College (1987) and a Doctor of Philosophy degree in Electrical Engineering from the University of Massachusetts (1993). She is also a Distinguished Graduate of the National War College, National Defense University where she earned a Master of Science degree in National Security Strategy in 2013.
Abhinandan Arya is the Vice President, Head of Technology for Solutions at Synspective Inc., Japan and is leading the core solution research and development using the SAR satellite constellations.
Graduated from the Indian Institute of Technology (IIT), Guwahati in Electronics and Electrical with Computer Science and Engineering, he has worked in Research and Development with leading universities and MNCs in India, South Korea, and Japan.
Mr. Abhinandan has demonstrated research, and professional excellence throughout his career working with large corporations, like Vodafone Group, Tech Mahindra, and Rakuten Mobile as an Engineering Leader, and Technology Specialist.
Melba Crawford is the Nancy Uridil and Francis Bossu Professor at Purdue University, where she is a professor in the Schools of Civil Engineering and Electrical and Computer Engineering, and the Department of Agronomy. Previously, she was an Engineering Foundation Endowed Professor at the University of Texas at Austin, where she founded an interdisciplinary research and applications development program in space-based and airborne remote sensing. Her research interests focus on development of methods in signal and image processing and their application to natural resource management, environmental monitoring, and agriculture. She is currently co-leading an initiative between the Purdue colleges of agriculture and engineering to develop sensing technologies to advance plant breeding and management practices in agriculture in response to climate change.
"Dr. Crawford has made outstanding contributions to algorithms for advancing analysis of remotely sensed data, and particularly for hyperspectral data. Her work in nonlinear feature extraction, transfer learning, and active learning for analysis of high dimensional remotely sensed data has been at the international frontier of the field for more than a decade," nominators wrote in Crawford's nomination. In recognition of her contributions, she received the IEEE GRSS David Landgrebe Award for research advances in image analysis (2021).
Dr. Crawford is a Fellow of the IEEE, Past President of the IEEE Geoscience and Remote Sensing Society, a former IEEE GRSS Distinguished Lecturer, and the previous Treasurer of the IEEE Technical Activities Board. She received the GRSS Outstanding Service Award in 2020.
Dr. Crawford has also helped shape the application of remote sensing through numerous advisory roles. She was a Jefferson Science Fellow at the U.S. State Department, where she served in the Bureau of Intelligence and Research. She advanced machine learning methodology in the applications community, co-leading DoE, NSF, and USDA funded research initiatives in earth and plant science. Dr. Crawford has also served in advisory roles on the NASA Earth System Science and Applications Committee, the NASA Earth Observing-1 Science Validation team, the NSF National Ecological Observatory Network Advisory Board, the NASA Socioeconomic Data and Applications Center Committee, and the IEEE Advisory Committee to the S. African Government on Human Capacity Development in Space Applications and Engineering.
William Deal is a Consulting Engineer and senior technologist with Northrop Grumman's Space division in Redondo Beach, CA. Dr. Deal is Frequency Converter product champion for Northrop Grumman's Common Space Vehicles and Payloads business area, as well as product champion for Northrop Grumman's advanced Indium Arsenide Composite Channel MMIC nodes. Dr. Deal is currently the PI on the NASA ESTO SMICES, IRAST, and Ultra RF projects.
He was awarded the IEEE MTT-S "Distinguished Young Engineer" award in 2009 and is a Fellow of the IEEE. He has served as Co-Editor for several IEEE Journals for a cumulative time of more than 12 years. Dr. Deal's group has won "best paper" awards in the IEEE MWCL, EDL, and THz Transactions journals.
Dr. Deal received his PhD at UCLA in 2000. He worked for several startup companies before joining Northrop Grumman in 2003.