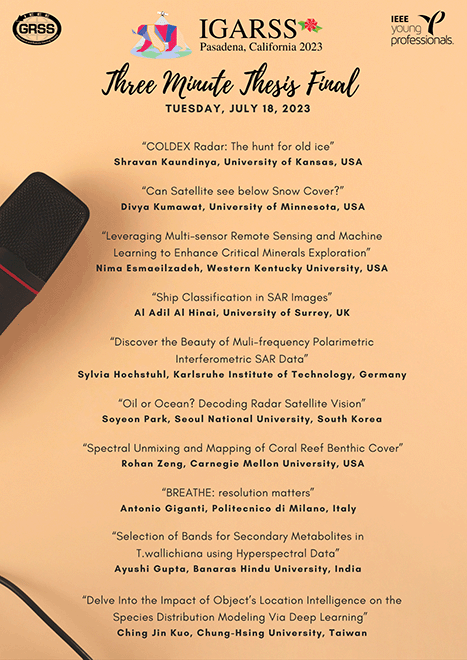 Date: Tuesday 18 July, 14:30 - 16:00
Location: Sheraton Pasadena, Justine's Ballroom
3MT®, founded by the University of Queensland, is an academic competition that cultivates students' presentation and research communication skills and challenges them to describe their thesis within three minutes to a non-specialist audience with one static slide.
We cordially invite you to join us as we gather to witness the live presentations of ten exceptional finalists.
But that's not all! As a member of the audience, your voice matters. At the conclusion of the presentations, you will have the opportunity to cast your vote for the "People's Choice Award," selecting your favorite finalist from the impressive lineup.
The competition will be judged by a distinguished panel of experts:
Nathan Longbotham, EOI Space
Claudia Paris, University of Twente
Jasmeet Judge, University of Florida
These esteemed panelists will evaluate the presentations based on the official 3MT competition rules and select the three winners who will be announced during the IGARSS Awards banquet.
We look forward to your presence at this remarkable event. Enjoy the competition and let your voice be heard!
Program
1. Shravan Kaundinya
Topic: "COLDEX Radar: The hunt for old ice"
University of Kansas, USA
2. Divya Kumawat
Topic: "Can Satellite see below Snow Cover?"
University of Minnesota, USA
3. Nima Esmaeilzadeh
Topic: "Leveragig Multi-sensor Remote Sensing and Machine Learning to Enhance Critical Minerals Exploration"
Western Kentucky University, USA
4. Al Adil Al Hinai
Topic: "Ship Clssification in SAR Images"
University of Surrey, UK
5. Sylvia Hochstuhl
Topic: "Discove the Beauty of Muli-frequency Polarimetric Interferometric SAR Data"
Karlsruhe Institute of Technology, Germany
6. Soyeon Park
Topic: "Oil or Ocean? Decoding Radar Satellite Vision"
Seoul National University, South Korea
7. Rohan Zeng
Topic: "Sectral Unmixing and Mapping of Coral Reef Benthic Cover"
Carnegie Mellon University, USA
8. Antonio Giganti
Topic: "BREATH: resolution matters"
Politecnico di Milano, Italy
9. Ayushi Gupta
Topic: "Selction of Bands for Secondary Metabolites in T.wallichiana using Hyperspectral Data"
Banaras Hindu University, India
10. Ching Jin Kuo
Topic: "Delve Into the Impact of Object's Location Intelligence on the Species Distribution Modeling Via Deep Learning"
Chung-Hsing University, Taiwan