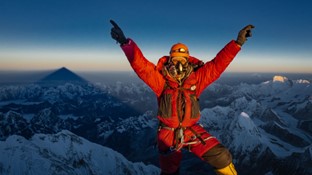 As scientists and engineers, effective communication is a critical job function. Communicating complex ideas to the general public takes years to master. Documentary film makers have mastered the art of story telling. Elia Saikaly has spent years on the front-lines of climate change documenting how the world's high-altitude environments are changing. Through an immersive presentation taking us to the upper edge of the world, he will share how he approaches story telling and give first hand accounts of these icy, dynamic environments where very few have been.
About the speaker
Elia Saikaly is an award-winning adventure filmmaker based in Ottawa, Canada. He has participated in over 25 world-class expeditions, always with a camera in hand, including ten to Mt. Everest. He is the only Canadian to summit the world's tallest mountain five times. In 2021, he reached the summit of K2, the 2nd tallest mountain on Earth.
As a storyteller and mountaineer, Elia survived and documented the 2014, 2015 and 2019 disasters on the world's tallest peak. His Everest imagery is regularly licensed by networks including National Geographic, Discovery, ESPN, Netflix, BBC and many more. In 2016, he co-starred with his climbing partner and friend Pasang Kaji Sherpa in Discovery Channel's: Unclimbed – Reaching the Summit.
Through Elia's television broadcast work as a director of photography, he has collaborated with numerous celebrity athletes including NBA champion Serge Ibaka, MLB hall of fame recipient Vladimir Guerrero, MLB star Edwin Encarnacion and many more. He won a Canadian Screen Award for his work with Rogers Sportsnet featuring former Toronto Blue Jays pitcher Aaron Sanchez on a documentary entitled: Limitless. He also co-earned a CINE Golden Eagle Award for 'On the Top', a television series he filmed on Mt. Everest.
Elia invests his time working with NGO's and causes close to his heart. Through his storytelling and camera, he has supported Indigenous people in Canada, the Peuls people of the Sahara in Niger, Syrian Refugees in Lebanon, persons with albinism in Africa, the Dinka and Nuer in South Sudan and beyond. For a decade, he ran his FindingLife educational program that connected tens of thousands of students to interactive real-time learning adventures. He also sits on the board of the Sir Edmund Hillary Foundation of Canada that supports the Sherpa people of Nepal.